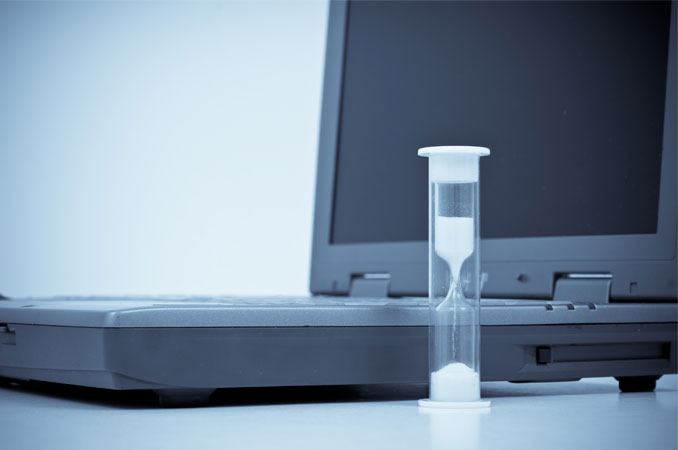 Posted by iTech Support on 21st May 2015
---
Are you getting frustrated with the speed of your computer or laptop? Like all things, the older they get, the slower they become. So what can we do about it?
Clean up your file storage
Files and programs are written to your hard disk in the most efficient way to read them back, which usually means the information is stored together. However, over time your disk becomes full and so the data often gets written in different areas making it slow to read back. This is known as disk fragmentation. Luckily a disk defragmentation program can move these all around and put them back in an efficient structure again.
Disk fragmentation is typically not an issue on modern Windows operating systems as they perform background disk defragmentation during idle time. However, if the disk is very full, defragmentation may never actually finish so you should make sure you have plenty of free disk space and perform a manual defrag every so often (when you're not using the computer) to ensure it has run properly.
Remove unwanted software
When you purchase a new computer, there is usually nothing on it except for the operating system and consequently it boots up in seconds.
Once you start loading up software, you load will automatically add at least some element to the start-up routine of the computer. Therefore, as soon as you boot the computer up, the software starts running. After a while there will be quite a few of these programs vying for attention on start-up and/or continuing to run background services whilst you go about your work, all slowing your computer down.
So check what these are and remove anything unwanted or unnecessary.
Upgrade your memory
Programs and their data are typically only partially loaded into memory, with the remainder staying in temporary space on the hard disk. The relevant part of the program or data then gets loaded into memory as it's required. Not only is this process slow but as your disk get filled up it gets even slower.
The more memory you have the less likely your computer will need to swap data from disk space. Therefore, you may wish to consider upgrading the size of your memory; it could make a huge difference for very little investment.
Upgrade your hard drive
Given how your computer uses its hard disk drive, a slow drive means a slow computer so consider replacing your standard hard drive with a new Solid State Drive (SSD). SSD's are incredibly fast and don't wear out like traditional hard drives.
Is your anti-virus checker efficient and up to date?
Some anti-virus software can be very intensive and use quite a bit of your computing power. Unfortunately some users, in an attempt to speed up the computer, remove their antivirus and then get infected with malware. Some malware is stealthy and if you don't have antivirus installed you may not notice it except as a general slowdown, thus having the exact opposite affect the user wanted.
The best advice we can give is not to remove your anti-virus software – speak to us first.
What can Itech Support do for you?
If you have any concerns about your computer or laptop, give us a call and we will check this for you.
At Itech Support, we carry out a series of health checks for our customer, ensure their anti-virus software is up to date and provide easy to understand advice on getting the most out of your IT.
For more information or advice about your IT requirements, give Itech Support a call on 01923 674091 or email support@itechsupport.net
---
Categories: Home User, Internet, Latest news
Tags: anti-virus, PC efficiency, remove unwanted software, slow PC